Joel Glidden's Graphics Portfolio (Imagery!)
A small collection of various graphic work I've done for people in the past and for myself. Most of it was done for free in my spare time, with a few exceptions.
The Cheshire Crab

I got a weird idea one day and drew it!
Band Logo

In the winter of 2007, I was asked to create this graphic for local punk band Chloroform Dragqueen. They told me what they wanted for an image and I did it in about 2-2.5 hours in Inkscape. You can view the band's MySpace page here, where the graphic is often displayed prominently and goes well with the page's custom CSS color scheme.
The Pear Society

I started to write my own webcomic this year, which I intended to do entirely in vector graphics. I eventually decided to pursue the story in other forms. Click the picture to see a sample page!
SDF Decscope Logo

I made a vector version of the SDF logo and a 'stylized' version for all the members to use. Want the SVG file?
Campaign Pin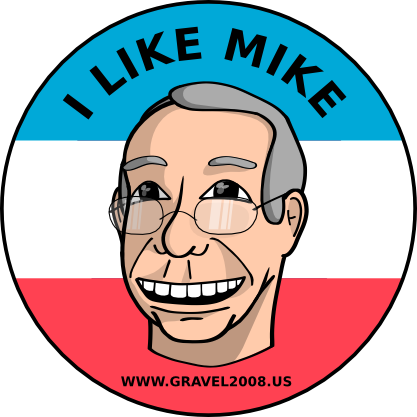 I made this design for presidential candidate Mike Gravel around Winter 2007. I found out afterwards that the Mike Huckabee campaign has already used the joke (I should've figured that) and then Mike Gravel joined the Libertarian Party, failed to the get the nomination, and dropped out of the race. Oh... well. This might've been one of the first images I made with my Wacom tablet. Made in Inkscape, of course.
Website Design

Back in high school I designed a website for the local middle school's basketball organization for community service time (which was required to graduate). I drew the tiger graphic and basketball in SVG format in Inkscape and compiled the images in The Gimp. The background of the logo contains an overhead view of the school (Gardiner Area High School in Gardiner, Maine).
Website Logo

Around the summer of 2004 I was asked to design a logo for the Maine Youth Orchestra's website by the co-owner of Pine Tree Internet (now defunct), Deb Holmes. I was paid about $25 for the job for which I designed a group of logos for their selection (the ones pictured above and a few variations on those basic themes). How overzelous I was! The logo in the top-right corner was picked and used for a few years before the website was entirely re-designed by someone else and the logo changed to the pixely goodness you see at the site today.
T-Shirt Design

I made this a few months ago or so. I still think it's funny.
Show Flyer

I was in a synth-rock duo around the spring of 2007, and this was a flyer I designed for one of the shows. The theme of our band involved modern internet culture, and I wanted the flyer to look very obviously like vector graphics, so it was done entirely in Inkscape. You can see some of the other graphics I made for the group at it's Myspace page. The flyer was designed entirely by me except for the stylized palm tree which was a logo of sorts for Such A Drag's Myspace page.
Banner Ad


A friend around the spring of 2006 asked me to make a banner ad to link to a local band's Myspace page. A simple two-tone vectorization of the bandmember's faces and since they didn't have a 'logo' for their name I designed one for the banner. I think of pastel sepia tones when I hear their music. It conforms to standard classic banner ad size.
Sox Freaks?

I applied for a job doing graphics work for some small operation called "Sox Freaks" in the summer of 2007. I actually applied for it without knowing what kind of work I'd be doing (or what it was called). I made a design for it but I decided to withdraw my application because the whole operation seemed a bit shady (are any of these sports team merchandise companies legit?). They never got the picture but I thought the original first draft of my design was interesting enough to include here. And yes, I was going to shade the clothes.
A T-Shirt Design Possibly

It's Esperanto for "Flowers are delicious!"